ADOT takes a look back at 2011
ADOT takes a look back at 2011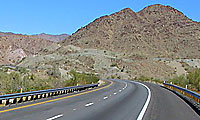 The new year officially is here, but before we dive into 2012 we're going to take a quick look back.
ADOT's Public Information/Media Relations team came up with a great list of the state's major transportation accomplishments from 2011 and we thought we'd share it here on the blog!
From new freeway openings to the approval of ADOT's Long Range Transportation Plan, here's a look at some of the highlights …
Phoenix Area Freeways:
ADOT widened major stretches of Phoenix area freeways in 2011 and opened the first new segment of freeway to be built under the Maricopa Association of Government's 20-year Regional Transportation Plan. Fourteen miles of Loop 303 were opened in May between Interstate 17 and Happy Valley Parkway in Peoria, allowing drivers for the first time to use Loop 303 to make the 39-mile trip between I-17 and I-10.
Drivers benefited from two accelerated projects to add High Occupancy Vehicle lanes along Loops 101 and 202. The final 30 miles of HOV lanes along Loop 101 between State Route 51 in north Phoenix and I-10 in Tolleson were opened in stages during the year and completed in November. Meanwhile, in the Chandler area, 12 miles of carpool lanes were completed this fall along Loop 202 Santan Freeway between I-10 and Gilbert Road.
Another significant milestone was marked in August with the completion of ADOT's three-year initiative to reconstruct and widen I-10 between Loop 101 and Verrado Way. Those projects modernized I-10, transforming what had been a limited highway with two lanes in each direction into a modern freeway that now provides as many as five lanes in each direction – including carpool lanes.
State Highway System:
Just over six months after a fiery crash damaged the Mescal Road/J-Six Ranch Road bridge, ADOT swiftly rebuilt the bridge to reconnect the Cochise County communities of Mescal and J-Six Ranch, which were separated by I-10 and depend on the overpass for convenient access to goods, services and neighbors. While the bridge was out of service, residents and workers in the Benson-area communities were required to take lengthy detours around I-10 to reach the other side of the highway. Federal Highway Administration emergency relief funds, a shortened time frame for designing the replacement bridge and a quick construction bid process all helped put the project on the fast track. A typical bridge construction project can take up to two years.
Continuing a decade-long commitment to expand the capacity of SR 260, ADOT completed a project to widen the highway starting 15 miles east of Payson from Little Green Valley to Thompson Draw. The $20 million project is the fourth of six projects to construct a four-lane divided highway from Star Valley to the top of the Mogollon Rim.
ADOT fulfilled its commitment to complete SR 87 improvements before the Memorial Day weekend and in time for the busy tourism season in the Rim Country. The $11.8 million reconstruction and widening project included the addition of a third southbound lane to enhance safety and traffic flow along the uphill stretch during drives between Payson and the Phoenix area. The improvements were the latest in a series of projects during the last two decades to enhance travel on SR 87, which is now a divided four-lane highway between Mesa and Payson.
Shortly after ADOT completed a $71.3 million widening project on the US 93 approach to the new Hoover Dam bypass bridge in 2010, the first Desert Bighorn Sheep were spotted in February using one of the three wildlife crossings that were constructed to protect motorists and provide a safe crossing for the native animals. The project earned ADOT several honors this year, including the Arizona Chapter American Public Works Association Award, 2011 Public Works Project of the Year and FHWA's 2011 Exemplary Ecosystem Initiative Award for the agency's creative and innovative solution to balance motorists' safety, while protecting wildlife and connecting ecosystems.
Hassayampa River Bridge Project
Just in time for the Fourth of July weekend, ADOT completed a $3.9 million bridge project over the Hassayampa River on I-10, approximately 40 miles west of downtown Phoenix. This area is a major route for travelers heading to and from California along I-10.
On a late April night in southern Arizona, ADOT tore down two bridges in 10 hours – no small task. ADOT had already planned to remove the old Marsh Station bridge, which required a 67-mile overnight detour for motorists on I-10 east of Tucson. About three weeks before the demolition was set to occur, two semi trucks collided under the overpass at the Mescal Road/J-Six Ranch Road bridge. The bridge was badly damaged from the resulting fire and would have to be replaced.
Planning and Programming:
Long Range Transportation Plan
For more than two years, ADOT worked toward developing the state's Long-Range Transportation Plan, a blueprint that looks 25 years into the future to determine how to plan for and fund transportation projects that keep up with Arizona's needs. The State Transportation Board formally approved the Long Range Transportation Plan, also known as What Moves You Arizona, in November, allowing ADOT planners to move ahead with their work to develop a transportation system that will carry Arizona into the future. The award-winning program was nationally recognized for planning and involving the public.
In October, ADOT kicked off the public outreach phase of its intercity rail study. The study's goal is to identify if there is a need for intercity rail along I-10 between Phoenix and Tucson. Over the course of a month, ADOT gathered information, data and comments. The agency will provide its findings to the public and to policymakers, so they can make an informed decision about how to move forward. ADOT is looking at all options, which include rail, transit—and the option to build nothing at all. The study will be complete in 2013.
Bicycle Safety Action Plan
As part of our public safety plan, ADOT is developing a Bicycle Safety Action Plan to help keep cyclists safe on Arizona's highways. The goal is to reduce the number of bicycle crashes with motor vehicles and improve safety for both cyclists and drivers.  The goal of the Bicycle Safety Action Plan is to reduce the total number of bicycle crashes on Arizona highways by 12 percent by 2018.
This year, nearly $3.5 million in grant funding was distributed by ADOT for 21 Safe Routes to School projects for schools and communities statewide. Eight of these projects, totaling $2.8 million, were designated for infrastructure improvements, such as the construction of sidewalks, crosswalks, bike lanes, signage and striping. An additional 13 projects, totaling $720,000, went toward non-infrastructure elements, such as providing bike helmets to students, safety education and law enforcement. All Safe Routes to School projects are designed to get kids walking or biking and adopt healthy habits.
Motor Vehicle Division and Enforcement and Compliance Division:
Motor Vehicle Division
MVD continued to improve the quality of customer service at MVD offices by shortening the wait times for the more common motor vehicle and driver license transactions, while serving over 3.5 million customers at MVD's 54 offices or satellite/specialized offices in 2011 The average wait time per transaction was approximately 19 minutes, compared to over 45 minutes just five years ago. Throughout the year, MVD also provided transaction assistance to returning soldiers with the U.S. Army Intelligence Command at Fort Huachuca in southern Arizona. ADOT also launched several new specialty license plates, including the long-awaited Arizona Centennial plate.
Enforcement and Compliance Division
ADOT officers conducted Operation Bullhead, joint-agency commercial vehicle enforcement operation in Mohave County at the request of Bullhead City officials. ADOT officers recovered stolen vehicles identified during inspections. The enforcement division also created a Single Trip Overweight International Border Permit program for produce transporters out of Mexico and assisted local law enforcement with scrap metal yard investigations.
Other Accomplishments:
Grand Canyon National Park Airport
In June, the Grand Canyon National Park Airport, owned and operated by ADOT, began daily 737 airline service from McCarran International Airport in Las Vegas. Travelers can now book a flight on Vision Airlines out of Las Vegas to the Grand Canyon. The new service is the first step in a larger vision to make it easier for all tourists to visit the canyon. The Transportation Security Administration was also stationed at the airport this year, making it easier for airline companies to fly into the airport, since they no longer have to provide their own passenger screening.