Interstate 10 / Baseline Road Traffic Interchange
Interstate 10 / Baseline Road Traffic Interchange
Contents
Overview
The Arizona Department of Transportation (ADOT) is studying potential improvements to traffic flow and safety at the I-10/Baseline Road traffic interchange.
Due to the high traffic volume and congestion in the area, the current interchange design may no longer be adequate to meet the needs of the traveling public. The study will evaluate two design alternatives for the interchange: a Tight Diamond Interchange (TDI) and a Diverging Diamond Interchange (DDI). A previous Baseline Road interchange feasibility study completed in May 2020 by the Maricopa Association of Governments (MAG) identified these design alternatives to enhance regional travel at the interchange and are being carried forward for this study.
The study will develop and evaluate design concepts for the alternatives and identify the preferred design alternative as part of the Design Concept Report (DCR) and environmental clearance, taking into account current and future traffic volumes and existing and new surrounding development.
This project is planned in two phases. Phase I consists of determining the recommended configuration for the Baseline Road interchange. Phase II is not funded at this time but will consist of final design of the interchange and preparation of construction documents.
Project Area Map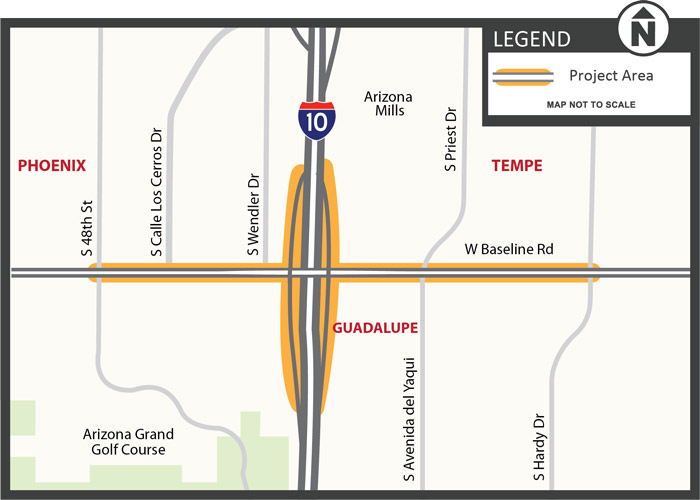 Study Timeline
Public Scoping Meeting - May 9, 2023
Public Meeting for Design Alternatives - Early 2024
Completed Study - Late 2024
Design/Construction Funding - The project is not currently funded for final design or construction.
Stay Informed


Please subscribe to receive project updates by email.
ADOT welcomes your questions and comments. Please contact us in any of these ways:
By Phone: ADOT Project Information Line: 855.712.8530
Teléfono: Línea de Información del Proyecto de ADOT: 855.712.8530
Email:

[email protected]

By Mail: ADOT Communications, 1655 W. Jackson St., MD 126F, Phoenix, AZ 85007
Public Meetings and Input
May 9, 2023 Virtual Public Meeting
Reunión Pública Virtual del 9 de Mayo de 2023 - en Español
Interchange Designs Being Considered
ADOT is considering two potential interchange design configurations for the I-10, Baseline Road interchange project: a Diverging Diamond Interchange (DDI) and a Tight Diamond Interchange (TDI).
What is a Diverging Diamond Interchange (DDI)?
A Diverging Diamond Interchange (DDI) is a relatively new type of interchange that is gaining popularity because of the efficiency of traffic movements and the reduction of conflict points between traffic movements to improve safety. . A DDI increases traffic flow by temporarily transitioning traffic to the left side of the road, allowing through-traffic and left-turning traffic to proceed through the interchange simultaneously, eliminating the need for a signalized left-turn. DDIs are particularly effective at locations that have: 
High volumes of left-turn traffic on and off of freeway ramps
Left-turn related safety challenges 
Moderate and unbalanced crossroad traffic through the interchange
A need for additional capacity, without widening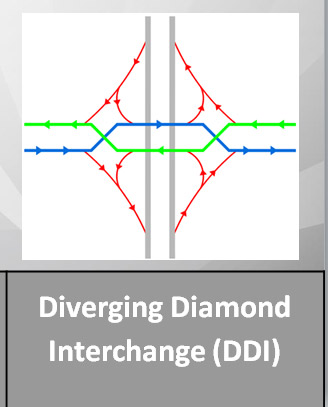 What is a Tight Diamond Interchange (TDI)?
A Tight Diamond Interchange (TDI), also known as a compact diamond interchange, is the most commonly used interchange type for freeway connections to local roads, and many of the existing interchanges within Maricopa County use this design.
This interchange type provides for good traffic operations where the right of way is restricted. The ramps between the interstate and crossroad form a diamond shape in the traditional interchange layout, and this works well with frontage roads along each side of the freeway. Traffic exiting the interstate merges with other traffic on the frontage road and can turn in either direction onto the crossroad or can continue straight through the intersection to remain on the frontage road. The "tight" or "compact" designation comes from the spacing of the two ramp intersections. Typically, when the intersections are separated by less than 600 feet, it is designated as a "tight" diamond and the traffic signals of the two intersections function together to provide for better flow of traffic through both intersections.