Have MVD questions? Chatbot has answers
Have MVD questions? Chatbot has answers
By Doug Pacey / ADOT Communications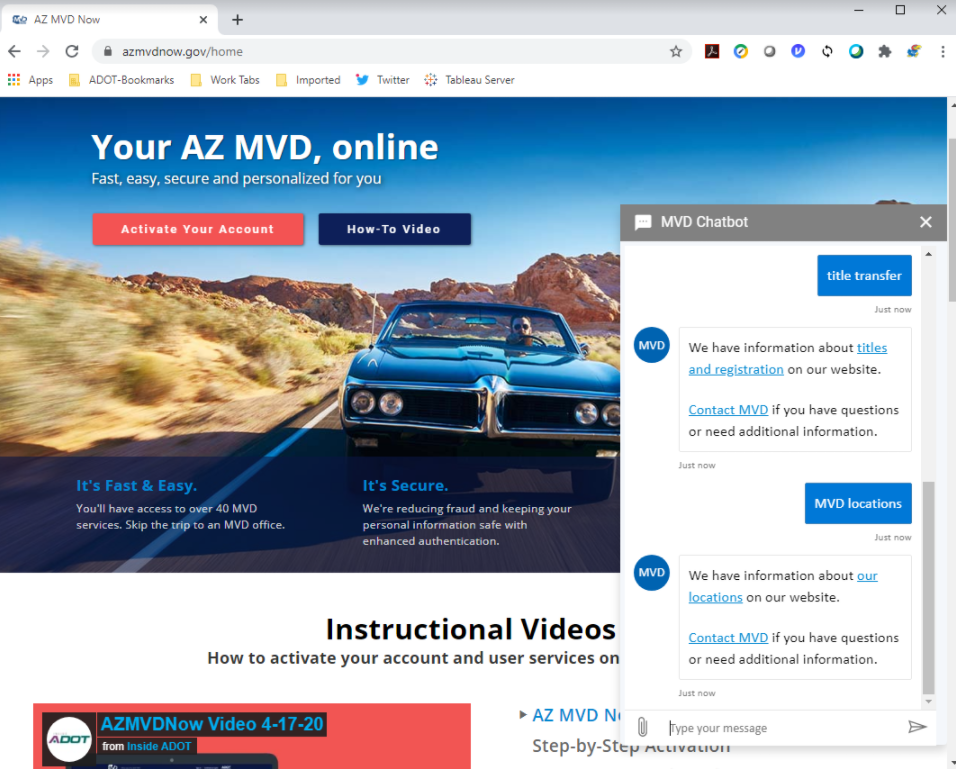 Sometimes, being pointed in the right direction is all the help we need. And the new Chatbot at AZMVDNow.gov does exactly that for Arizona Department of Transportation Motor Vehicle Division customers.
Need to change your address? Chatbot will show you the way.
Looking for information about a "sold notice"? Chatbot can assist.
Want to make an appointment at an MVD office? Chatbot provides the details.
"By necessity, there's a lot of information on the MVD website," said ADOT MVD Director Eric Jorgensen. "Our goal in creating Chatbot was to make it easier for people to find the right information, so they can quickly complete their transaction."
In its first week of being active on AZMVDNow.gov, Chatbot had 26,000 interactions with users, helping them find the information they needed. At AZMVDNow.gov, Chatbot appears on the bottom of the page on a mobile device and in the bottom-right corner on a computer screen. 
To complete some MVD transactions online, users must log-in to their account at AZMVDNow.gov, which launched in April. More than two-thirds of all MVD transactions can be completed at AZMVDNow.gov, including common ones, like registration renewal, requesting a replacement license, updating insurance information, sold notices, 3-day permits, getting a motor vehicle record and many more.
Every current MVD customer has an AZMVDNow account. To date, about 1.5 million people have activated their account. To activate your free account, go to AZMVDNow.gov and follow the prompts.