ADOT Kids: Adopt a Highway isn't just for adults
ADOT Kids: Adopt a Highway isn't just for adults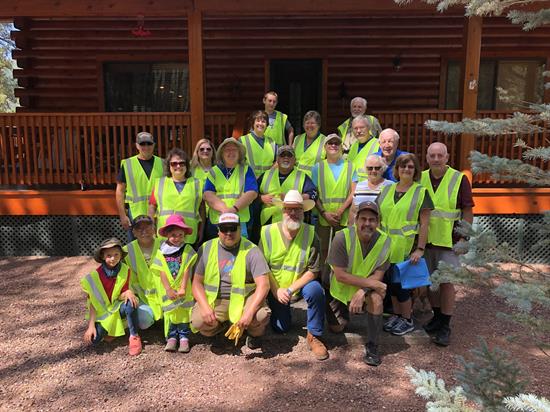 EDITOR'S NOTE: During this unprecedented time, ADOT is creating transportation activities for kids. Please visit azdot.gov/ADOTKids or use the hashtag #ADOTKids on ADOT's Twitter, Facebook and Instagram accounts to see what we have going on. 
By Caroline Carpenter / ADOT Communications
If you've participated in our 'Keep it Grand' art challenge and are wondering how you can join the fight against litter, this blog post is for you! 
​Through the years, we've had many kids participate in ADOT's Adopt a Highway volunteer program. Whether big or small, volunteers always feel like they get something out of the experience. Volunteers have told us adopting a highway is a "feel-good thing to do" and is "important work."
Did you know this is National Volunteer Week? We celebrated it today by paying tribute to the 10,000 volunteers who picked up litter along state highways in the past year. 
Many of our youngest volunteers start when their families adopt stretches of highway. That means they agree to pick up litter along the highway at least once a year. An earlier blog post highlights how the Clark family has been picking up litter along State Route 473 in the White Mountains for 11 years. The picture on the right shows their two daughters after a cleanup. While the Clark family is helping beautify our state, they also use the time to share family memories. 
Each year, the Coester family ​gathers 15 to 20 family and friends, young and old, to work on US 180. You can see the large group that gathered last summer and read their story in our blog post. You'll learn how the family honors David Coester and the area he loved. The family enjoys welcoming their little family members to the group to be guided by those with more experience. 
For those who don't gather with their families to adopt highways, civic and charitable groups can participate. Boy Scout Troop 7193 cleans up mile 222 on State Route 260 near Camp Verde. Near St. Johns in eastern Arizona, the Apache County 4-H club works on milepost 380. Whether it is a religious group, youth group or school group, all are welcome! 
If you want to see what a litter pickup looks like, watch our video below.
You can learn more about how easy it is to participate in the Adopt a Highway program on our website. For safety reasons, we ask volunteers to be 12 and older. 
A reminder: If you have questions about picking up litter around the state or want us to feature your artwork encouraging others to keep our state clean, please send them to [email protected] by 5 p.m. Wednesday, April 22. We'll be answering your questions and showing off your artwork on Friday, April 24.
A bonus activity: I hope you'll check out the maze at bottom right. You can print play by clicking the image or the link below it. Have fun No-litter Lucy get her litter bag to the trash can!