A look back at some of the milestones from 2012
A look back at some of the milestones from 2012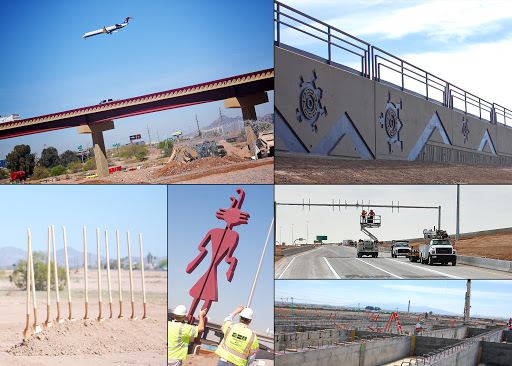 Happy New Year!!
We think 2013 holds a lot of promise and look forward to the year ahead, but before we get back to blogging about what's on ADOT's horizon, we thought we'd take a look back at the year that was …!
In 2012, not only did Arizona celebrate its centennial, but the year was full of major accomplishments for the Arizona Department of Transportation – projects progressed, bridges were built, highways were maintained and drivers were warned to 'Pull Aside, Stay Alive' during dust storms (who could forget #HaboobHaiku?).!
Join us as we reminisce the rest of this week. Today we take a look at some 2012 transportation highlights from around the Valley, tomorrow our focus will shift to the rest of the state and on Friday we'll feature some MVD and planning achievements.!
I-10/Loop 303 Interchange Project
This year saw substantial progress on what will be a three-year project to construct the multi-level freeway-to-freeway interchange to link I-10 with Loop 303 in Goodyear.!
Drivers in the area were able to watch as crews built sections of elevated ramps that will carry traffic to and from Loop 303 north of I-10 by fall 2014. ADOT also opened new I-10 ramps at Sarival Avenue and Citrus Road to replace the now-closed ramps at the Cotton Lane interchange, making room for the larger I-10/Loop 303 interchange to continue.!
Crews also worked on significant improvements to stormwater drainage systems and opened a new section of Cotton Lane between McDowell and Thomas roads. The $134 million project also will slightly shift the alignment of I-10 to the north to allow the future connections between the two freeways.!
Additional Loop 303 Improvements
The $129 million Loop 303 expansion project south of Grand Avenue (US 60) to Peoria Avenue certainly began to take shape in 2012 as ADOT worked to improve one of the West Valley's key roadways into a six-lane divided freeway between I-10 and US 60.!
Traffic was switched this fall onto the future northbound freeway lanes to allow crews to concentrate on the southbound side of the project. ADOT plans to open the southbound lanes in the Grand-to-Peoria area by fall 2013. Other Loop 303 widening work between I-10 and Grand Avenue is scheduled for completion in 2014.!
State Route 24 (Gateway Freeway)
Under the Maricopa Association of Governments' 20-Year Regional Transportation Plan, work started in 2012 on the one-mile stretch of what will be a brand new freeway – State Route 24 (Gateway Freeway) – between Loop 202 (Santan Freeway) and Ellsworth Road in southeast Mesa. The new freeway segment, scheduled for completion by fall 2013, will provide drivers with improved access to the growing Phoenix-Mesa Gateway Airport. Mesa issued bonds to accelerate the project's start by several years.!
Grand Avenue (US 60)
ADOT wrapped up a pair of projects in 2012 to add lanes, improve intersections and ease traffic flow along Grand Avenue between 83rd Avenue and Loop 303. The stretch includes a new and durable rubberized asphalt surface.!
State Route 143/Sky Harbor Boulevard Interchange
Crews completed new ramps allowing improved access at Phoenix Sky Harbor International Airport. One new ramp allows drivers for the first time to go directly from eastbound Sky Harbor Boulevard to southbound State Route 143 near the east end of the airport. A new southbound SR 143 ramp provides a direct connection to westbound Sky Harbor Boulevard.
Wow, 2012 was a busy year! Did any of these projects have an impact on your commute? Let us know in the comments and stay tuned – tomorrow we'll look back on some of the transportation milestones that happened statewide.