Multiple transportation projects progressed in 2012
Multiple transportation projects progressed in 2012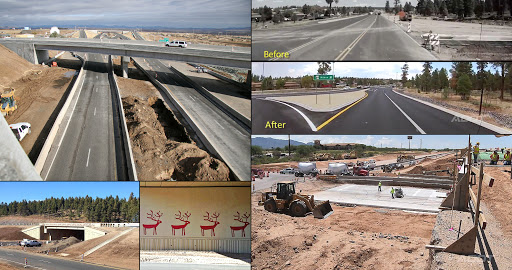 Here we are, already three days into this New Year, and we're still reminiscing about 2012.
You can't really blame us for looking back, though. Last year was a busy one for ADOT and it was full of major transportation accomplishments!
Yesterday we recalled the 2012 transportation highlights from just around the Valley, but today we're shifting our focus to the rest of the state. Several projects took shape last year and many improvements could be seen all around Arizona. Here are a few notables...
I-10 Widening between Phoenix and Tucson
ADOT completed two widening projects on Interstate 10 that connect the state's two largest metropolitan areas — Phoenix and Tucson. A $31.3 million project (I-8 to SR 87) improved a 12-mile segment of I-10 between Casa Grande and Picacho in Pinal County and a $31 million project (Val Vista to Earley Roads) widened a 10-mile stretch within the Casa Grande area. Both projects increased the capacity of the highway from two lanes to three in each direction.
I-17/SR 69 Cordes Junction Traffic Interchange
ADOT continued to make substantial progress on its largest project currently in northern Arizona. The Cordes Junction traffic interchange is undergoing a major reconstruction at the junction of I-17 and SR 69. After beginning construction in August 2011, ADOT is entering the final stages of this $50.9 project to improve safety and traffic flow at this busy intersection. This month, ADOT completed work on a new flyover bridge, which will carry northbound traffic headed to the Prescott area over I-17 and connect directly to northbound SR 69. The project is expected to be completed in June 2013.
US 93 Widening
A popular travel route between Phoenix and Las Vegas, ADOT continued its commitment to widen US 93 in 2012. A seven-mile segment (Southbound Wagon Bow Ranch and Southbound Deluge Wash) of US 93 north of Wikieup was finished in July. The $25.9 million project provides motorists with new southbound lanes and another completed section of four-lane divided highway.
I-17 Munds Park Traffic Interchange
Twenty miles south of Flagstaff, the I-17 Munds Park traffic interchange underwent a complete reconstruction, including the replacement of two bridges that were built in 1958 with two new bridges measuring 100-feet long (replacing the old 25-foot-long bridges). After completing the northbound bridge in 2011, ADOT replaced the southbound bridge in 2012 and the $10 million project is nearly complete with all lanes open. Final paving will take place next summer.
I-10/SR 90 Traffic Interchange
After nearly two years of construction, motorists traveling on I-10 through Cochise County are enjoying a new overpass bridge at SR 90 near Benson. In addition to constructing the new bridge, crews straightened the roadway west of the interchange to eliminate sweeping curves, widened SR 90 south of I-10 and constructed new access roads north of the interstate, all part of a $27.6 safety improvement project.
SR 64 Tusayan Improvement Project
ADOT completed a $4.1 million safety improvement project last summer on SR 64 through the town of Tusayan, which sits along the route leading to the south entrance of Grand Canyon National Park. Improvements included widening the five-lane divided highway to allow for raised medians, bus pull outs, several crosswalks and two new roundabouts.