Certification Acceptance
Project Resources
Certification Acceptance Contact Information
For information on the Certification Acceptance program, please contact Lisa Pounds, Local Public Agency Manager by email or phone at 602.712.8088
Certification Acceptance Manual
LPA Certification Acceptance Manual - April 2019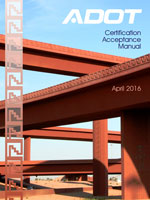 The intent and purpose of the Certification Acceptance (CA) Manual is to document the roles and responsibilities of the CA Agency, Arizona Department of Transportation (ADOT), and Federal Highway Administration (FHWA) and provide procedural guidance with respect to delivery, oversight, and stewardship of the Federal-aid Highway Program (FAHP).
Certification Acceptance Manual by Section
Section
Sub-Section
Section Title
Issue Date
100.00 General Administration
100.10
Certification Acceptance
April 2019
100.20
Financial Administration
April 2019
100.30
Contract Administration
April 2019
100.40
Project Inspections and Program Evaluations
April 2019
200.00 Project Development Process
200.10
Project Development Process Illustrated
April 2019
200.20
Planning/Programming
April 2019
200.30
Project Initiation
April 2019
200.40
Development/Design
April 2019
200.50
Environmental
April 2019
200.60
Right-Of-Way
April 2019
200.70
Utilities and Railroads
April 2019
200.80
Construction Administration
April 2019
200.90
Construction
April 2019
200.100
Final Acceptance and Project Closeout
April 2019
300.00 Civil Rights
300.10
Americans With Disabilities Act
April 2019
300.20
Title VI Nondiscrimination
April 2019
400.00 Glossary
April 2019
500.00 Figures
April 2019
600.00 Change List
April 2019
Certification Acceptance Program - Computer Based Training
Certified Acceptance Program Training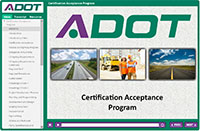 This course discusses the role and responsibility of a Certification Acceptance (CA) Agency when implementing the Federal-aid Highway Program in Arizona. This computer based training includes a final assessment quiz.
Important: After successfully completing the Certification Acceptance final assessment quiz, please take a screen shot of your quiz results and email it to [email protected].
Be sure to include your contact information including your full name, title, agency, phone number and the date the test was completed.
Your test results will be recorded with the ADOT Local Public Agency Section.
Certification Acceptance Agreements
Below are the signed individual Certification Acceptance agreements ADOT entered with the following cities and counties. These agreements are current and list their terms and conditions.
Certification Acceptance Agency Matrix
The Matrix of Delegated Authority is a snap shot of the current status of each Certification Acceptance agency. The Certification Acceptance agencies were recertified in 2019.
CA Agency Matrix Rev. 2019
Environmental Project Data Sheet
Record Drawing Guidance
The CA form can be found on our ADOT record drawing website, under "Additional Resources." After the form is completed, please send it to your project manager.
ADOT CA Change Order Approval Process