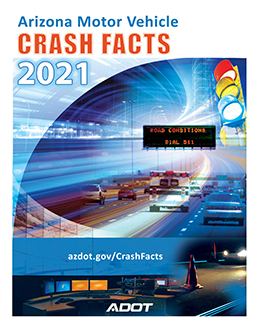 Complete Annual Crash Facts Report
To request crash data, please visit the Public Record Center.
Other Statistics
Information regarding traffic volumes can be found on the Data and Analysis section of this website.
Helpful Links
Population Statistics: This link is to the Office of Employment and Population Statistics for the state of Arizona. 
Gas Gallons Sold: This link shows the amount of gasoline gallons sold by county as reported by suppliers. Counts are subject to change for up to 24 months, due to amended reports and audits of fuel suppliers.
Diesel Gallons Consumed: This link provides estimates of use fuel (diesel) consumed by county.
Boats and Watercraft
MVD titles and registers boat trailers. However, the registration of boats and other watercraft, as well as any associated statistical information, is handled through the Arizona Department of Game and Fish.