Phase II - Development
There are four basic components in the development phase. They are; Project Initiation, Scoping, Design, and Clearances. Scoping and design may be further defined by the stages of development, Stage I through Stage V. The design clearances include Environmental, Right of Way and Utility clearances.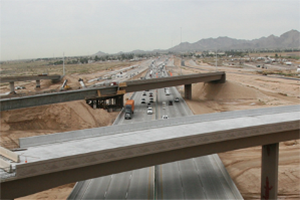 L-303 & I-10 Traffic Interchange - Mar 2014
Most projects in the Five-Year Transportation Facilities Construction Program [Five-Year Program or Program] will require additional scoping prior to beginning design. The scoping and design processes may be authorized and developed as one phase by the same development team (one-step) or as separate phases with their own individual authorization (two-step). The two-step process is used when a project is large and complex, requiring more detail in scoping to adequately define the desired alternatives and costs necessary to properly program a project. These projects usually require a higher level of environmental documentation in the form of an Environmental Assessment (EA) or Environmental Impact Statement (EIS).
Once properly scoped and based upon the needs of the project, the project manager calls together ADOT technical teams, agency representatives, and other relevant stakeholders to design review and revise project elements until a biddable and constructible set of plans and specifications is produced.