ADOT Motor Vehicle Division experiments to improve customer service
ADOT Motor Vehicle Division experiments to improve customer service
PHOENIX – The West Phoenix Motor Vehicle Division office is often a noisy scene when a customer lines up to check in and then takes a seat to wait for an automated system to call his or her number.
On this day, however, it's unusually quiet and no numbers are being called. After checking in, customers line up along a path through the lobby marked by yellow tape. While one MVD employee walks down the line to make sure customers have what they need to complete their transactions, another directs people to the next available customer service window.
It would be natural to think that the automated system is broken, but in fact it's been modified to stop audibly calling numbers so employees here can see if trying a different approach reduces wait times.
The initial results are promising: On this day, customers got in and out in 30-35 minutes on average versus the usual average time of more than an hour.
As part of the Arizona Department of Transportation's agency-wide commitment to continuous improvement, MVD has turned the office at 51st Avenue and Indian School Road, one of its busiest, into a laboratory of sorts as it works toward a goal of reducing door-to-door times at all locations from an average of one hour to 28 minutes. Repurposing the automated number system is one of many ideas that employees will try here in the coming months to identify process improvements that can be used at all MVD offices.
What's happening at the West Phoenix office may be the most visible way MVD is seeking to becoming more valuable to customers, but this commitment to continuous improvement applies to all facets of its operations.
"Nothing is off-limits as we and others at ADOT answer Governor Ducey's call to operate at the speed of business," ADOT Motor Vehicle Division Director Eric Jorgensen said. "We're ready to experiment with any element of MVD."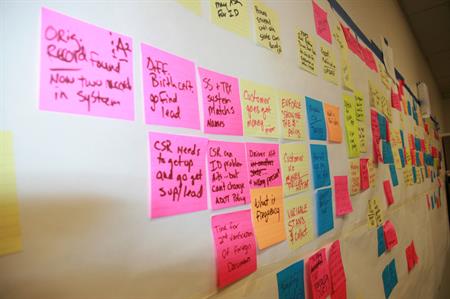 The roadmap for continuous improvement begins with planning. What played out in the lobby on this day began with brainstorming sessions in a large employee training room downstairs that's become an innovation center for a team made up of staff from the West Phoenix and other MVD offices, MVD leadership and ADOT's continuous improvement specialists. It's a place to literally throw things on the wall and see what sticks, as the walls are covered with color-coded sticky notes identifying dozens of processes being studied, along with challenges and potential improvements.
"We are looking at everything from driver licenses to titles and registrations and brainstorming possible solutions to issues with those processes," said West Phoenix MVD Office Manager Steven Parra, who in addition to his other duties oversees the experimentation here. "It's exciting to be a part of a venture where we get to actually test the ideas we come up with to see if they work."
The next stages of continuous improvement are doing and checking. The results of the changes to the automated number system on this day will be studied, as will those of other experiments aimed at reducing customer wait times.
Some ideas will work. Some won't. Both are part of a process that will lead to the final step of continuous improvement: acting, in this case by identifying ways that all MVD offices can reduce customer wait times.
In addition to innovations that will come from the West Phoenix office, MVD has already made several changes through its continuous-improvement process. These include printing temporary credentials at the customer service window instead of sending customers to a separate line. Also, a customer retaking the driving test now goes directly to the testing area instead of first waiting in line to re-verify his or her application with a representative.
"Our vision to get customers out of line and safely on the road is not just something we say," Jorgensen said. "What's happening at our West Phoenix office isn't the beginning or the end of our efforts to improve at MVD. It's an expression of how committed we are about better serving our customers and becoming more efficient."
For more information, visit azdot.gov/mvd.