Adopt a Highway Volunteer and Sponsor Signs
Adopt a Highway Volunteer and Sponsor Signs
ADOT Adopt a Highway Volunteer Program recognition signs, posts and the ADOT Right of Way are property of the state. The signs, posts and Right of Way are not intended for and should not be used as an advertising medium, any kind of public forum for public speech or political opinion. Additionally the signs, posts and Right of Way shall not be decorated in any manner; all decorations will be removed from the signs, posts and Right of Way by the Designated office in the Adopt a Highway permit.
Volunteer Signs
Volunteer recognition signs are two-panel, single-post signs provided by ADOT. The ADOT logo is 24x12 inches and sits in a separate panel above the recognition panel. The recognition panel contains either three or four lines with eleven three inch characters in uppercase and lowercase unless otherwise noted.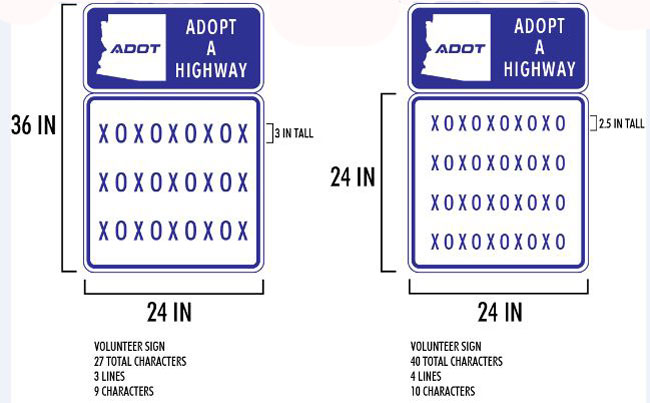 Sponsor Signs
Sponsor recognition signs are a way for civic-minded sponsors to adopt a segment or segments of Arizona's highways for litter cleanup. Sponsors can do so by hiring maintenance providers from a list provided by ADOT. Sponsor signs are not provided by ADOT and must be purchased from approved maintenance providers. Sponsor signs are single-panel, two-post signs that are 72x48 inches. The sponsor plaque area is 48x24 inches.
For a list of maintenance providers and for more information, visit the Sponsor Program page.