We're blushing; thank you for the thank yous!
We're blushing; thank you for the thank yous!
By Laurie Merrill / ADOT Communications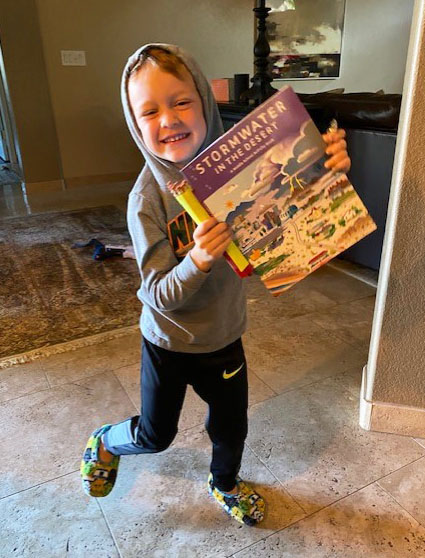 What do a grateful assistant fire management officer and the mother of a civic-minded 4-year-old boy have in common?
They both recently sent thank-you emails to Arizona Department of Transportation employees whose "above and beyond" efforts deserved extra recognition.
In an email, James Robbins, an assistant fire management officer with the Arizona Department of Forestry and Fire Management, thanked everyone at the Prescott Valley Equipment Shop. 
For nearly five years, Robbins said, the shop has swiftly repaired and consistently maintained the small fleet of heavily used firefighting vehicles he managed while in a former position. The shop is one of 21 such ADOT facilities across the state that provides vehicle services to more than 40 government agencies.
"Whether it is a fire crew carrier, heavy duty chipper, pickup truck or a fire engine, new or old and abused, your team has rallied to help us get back on the fire line as quickly as possible time and time again," Robbins wrote. "Every one of your team members has acted in a professional manner and truly seems to do their best in helping us with our mission, and I want you to know that we truly appreciate it." 
It's not often that maintenance shop employees receive such accolades from someone who took the time to put together a note and send it, said Lionel McFarlane, ADOT maintenance operations manager.
"This was an unusually nice gesture," McFarlane said.
In the next thank you story, Jack Eldridge, 4, was on his way to preschool with his mother when he spotted trash on Loop 101 Pima Freeway near the 64th Street off-ramp.
"We should stop and clean this up," Jack said to his mom, Jennifer.
Jennifer said she thought it a good idea and decided to see if she could organize a cleanup with some of his preschool buddies and their families.
She reached out to Mary Currie, ADOT's Adopt a Highway communications programs manager, and asked if they could clean that stretch of L-101.  
"This is my 4-year old's idea and I want to try and see it through," Jennifer wrote.
Currie researched the issue thoroughly with several other ADOT employees. The finding was that particular segment, located in the busy urban Phoenix area, is unsafe for volunteer activity. In fact, the area is part of the Adopt a Highway Sponsor Program, but clean-up activity is on hold as maintenance crews continue the ongoing widening project in that area.
What's more is that volunteers have to be at least 12 years old and have a parent sign a participation form to participate in the volunteer program. 
So while the answer was "no," it was the way Currie said it that meant so much to Jennifer. That and the fact that her correspondence resulted in a speedy cleanup of the area. 
"She (Currie) took the time to call and say how much she appreciated my child's interest and talked about other ways our family could get involved," Jennifer said. "She sent us about 12 lapel pins that say 'Keep it Grand,' pencils and 'Stormwater in the Desert' activity books."  
Jack cherishes the items and carries them around in his backpack, she said.
"Thank you so much for your letter and the materials you sent to us! We are thrilled!," Jennifer wrote. "I will look into the Adopt a Highway program for my husband and I to get involved with (and for Jack too when he's age-appropriate). By the way, I noticed a week or so ago that the exit at 64th Street and the 101 is CLEAN (at least for now). Jack noticed too! So, thank you so much!"
But even better, he and his mother shared the materials with his preschool class, and his teacher used them for a unit about sustainability and pollution and urged them to pick up their own trash.
"Mary went above and beyond!" Jennifer said. "I really appreciate the work you do."
For her part, Currie shared credit with the other ADOT employees who helped create this story.
"For this family and a classroom of 4-year-olds, you've set in motion a belief that being civic-minded can make a difference in the community," Currie told her fellow employees in an email. She also sent them the thank you from Jack, Jennifer, and Jennifer's husband, Ashton.
Jack and other kids can click on the ADOT Kids link to learn more about transportation and have some fun while learning too. If you would like to learn more about adopting a segment of highway with your family or friends, visit the site for the Adopt a Highway Volunteer Program.