Adopt a Highway: Volunteers make lemonade
Adopt a Highway: Volunteers make lemonade
By Mary Currie / ADOT Communications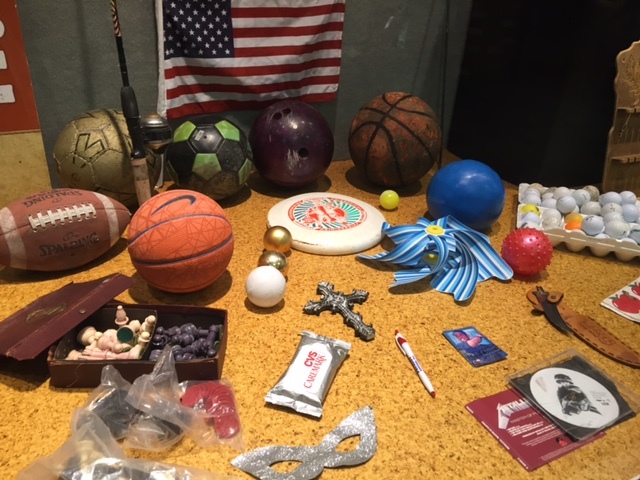 It is summertime in the Southwest. No better time to think about fresh lemonade, which reminds me of the proverbial phrase spoken by optimists. 
Volunteers are some of the most optimistic people I have met. As sure as Independence Day approaches, volunteers are making lemonade—at least in the metaphorical sense. 
The items shown in the photo collected by the Prescott Litter Lifters are the type of Americana collected along state highways. We'll call them lemons for today's story. Lemons are not the menacing paper and plastic variety of litter, but the type of lost items that might have something interesting to say if they could speak. Like an elf hat. Would Santa's elves intentionally toss their crowning glory roadside on State Route 286? We don't know, but that's where the making lemonade part comes in.
Some of these items will never see a landfill. That's pretty good news and a great feeling for volunteers who collect hundreds of bags of unsalvageable refuse. Reuse and recycle is a common thread among volunteers who clean and refurbish lost items. Lots of metal pieces and tools found roadside are given new life and a renewed purpose.
As for the ballpoint pen in the photo—if it still works, I'll take it to replace the one that I misplaced. The basketball and other sporting goods might get a second chance at a road trip. This time cinched-down in a truck bed with a net to prevent a three-pointer into traffic. It happens.
ADOT celebrates Adopt a Highway volunteers who collect all varieties of trash from along state highways. Your service is a big part of what our nation celebrates each Fourth of July. Thank you for your continued optimism and for making lemonade when possible. I raise my glass to you. 
Stay safe and healthy this summer during litter collection events. Pack plenty of water and watch out for each other along busy highways. 
Considering a volunteer opportunity? Visit Adopt a Highway for more information about adopting a two-mile segment along a state route in your area. 
If you live in Phoenix and would like to help reduce litter in your neighborhood, visit My Beautiful Phoenix. Tucson area residents can check out Tucson Clean and Beautiful. The Maricopa Association of Governments also focuses on keeping roadways clean through its Don't Trash Arizona campaign.
Arizona, Keep It Grand!