Flagstaff student's design appears on Code Talker specialty plate
Flagstaff student's design appears on Code Talker specialty plate
By Doug Pacey / ADOT Communications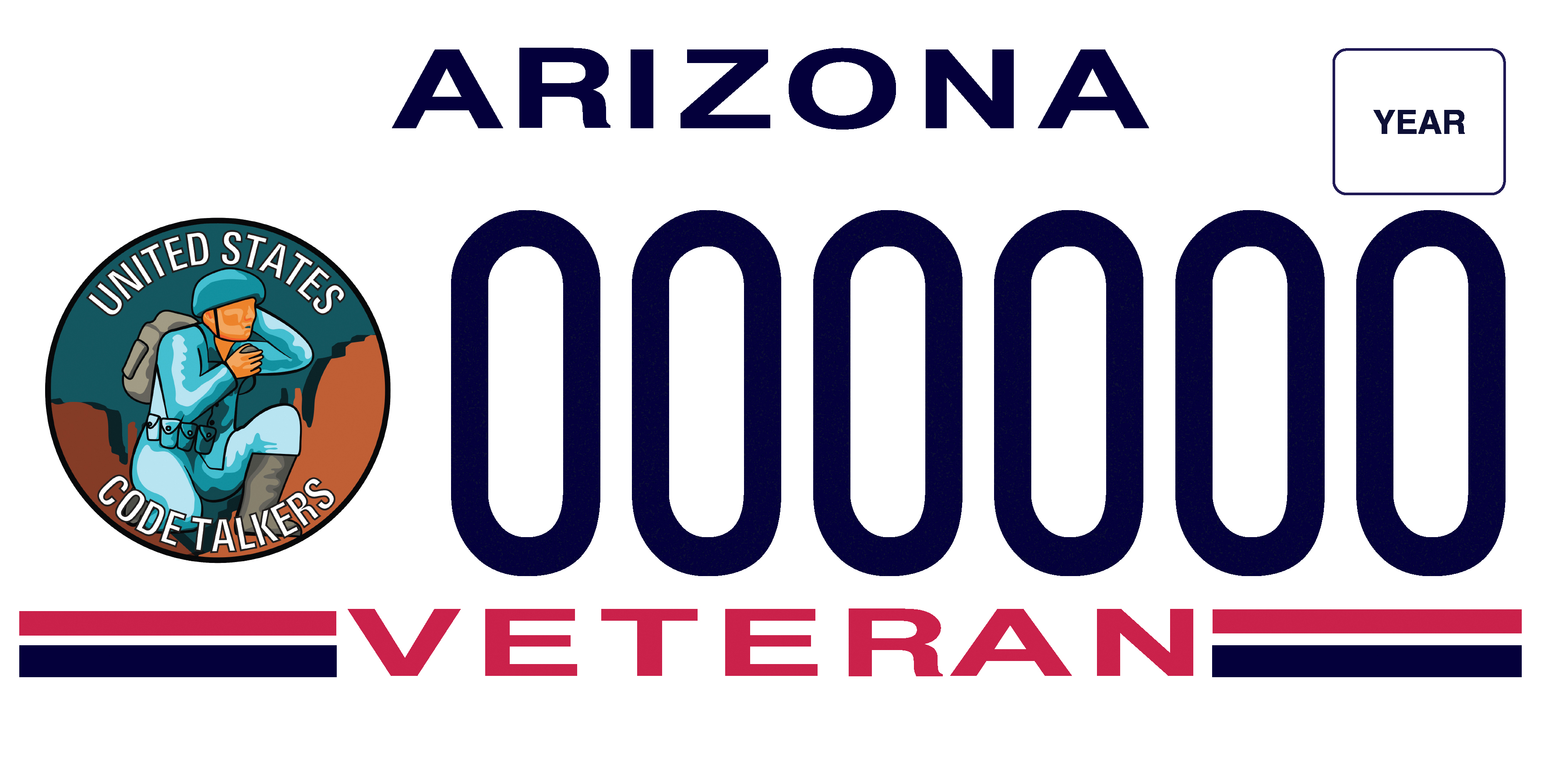 For months, Alyssa Williams was asked, over and over, when the Code Talker license plate she designed would be available.
Finally, she can answer, "Now."
In December, ADOT's Motor Vehicle Division made available 15 new specialty license plates, including one devoted to American Indian Code Talkers. In August 2020, Williams, who is Navajo, was voted the winner of a contest that selected the winning design for the Arizona Code Talker specialty license plate.
"This seal was created to show appreciation for the dedication and bravery of the Navajo Code Talkers," Williams said. "The Code Talkers demonstrated the efficiency and force of the Navajo language under pressure during World War II. They are an inspiration to my culture and our nation's history. They are respected heroes. And using my artistic ability and passion to create pieces of art that give recognition to the indigenous community gives my art so much meaning and power. Thank you for the opportunity to be a part of something so purposeful."
Williams' design won a contest hosted by the Governor's Office on Tribal Relations that aimed to "design a seal to reflect the historical and unique contributions made by the Code Talkers" of many tribal nations.
"Designing a graphic to honor the legacy of the Navajo Code Talkers is a huge responsibility," said Kristine FireThunder, Executive Director of the Governor's Office on Tribal Relations. "Rather than approach a well known artist it was more appropriate to creatively challenge native youth and reintroduce this significant point in history to a new generation."
When Williams, pictured in the accompanying photo, entered the contest, she was a student at Flagstaff High School. Fast-forward to today, she recently completed her first semester at Laguna College of Art and Design, where she's majoring in Graphic Design and Digital Media. Now that the specialty license plate will be placed on vehicles, she hopes people that see it will spend a moment for reflection.
"I hope they appreciate it and look at the art and it catches their eye," she said. "Everyone should know about the Code Talkers, all they sacrificed and their bravery."
More information about American Indian Code Talkers can be found in this collection at The National Museum of the American Indian.
To view and order any specialty plate, visit azmvdnow.gov. Most specialty plates cost $25 upon initial application, of which $17 goes to a designated charitable organization. Personalization can be added for an additional $25 per year.
Specialty plates are authorized by the Arizona legislature and have been offered since 1989. Authorized plate designs complete a review by ADOT and law enforcement. In all, there are more than 80 license plate options for Arizona motorists.