In Florence, we're building a bridge that's designed to move
In Florence, we're building a bridge that's designed to move
By Garin Groff / ADOT Communications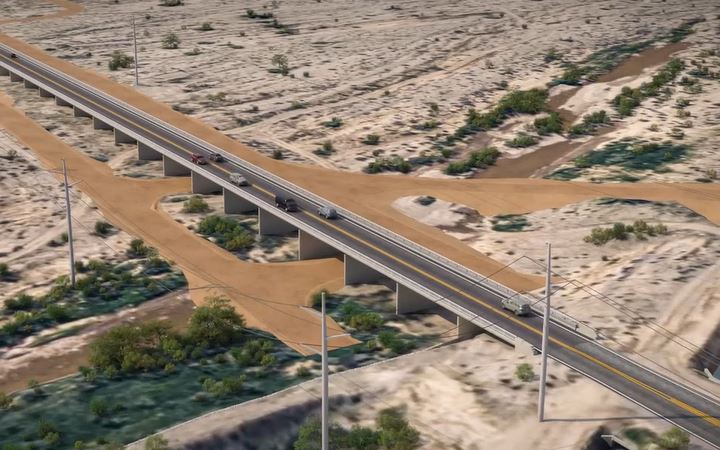 When ADOT builds a new bridge, our top priority is to make sure the gigantic mass of steel and concrete stays right where we build it.
But that won't be the case with a new bridge we're constructing on State Route 79 in Florence, because this bridge is designed to move.
Or more precisely, slide. 
This new bridge's mobile nature will be only temporary, however, as part of an innovative method of constructing a new bridge by assembling the new structure's components next to the old bridge and then sliding them into place.
The process begins by constructing new bridge piers in the bed of the Gila River. The piers will be extra wide so the new structure's components can be built in halves on either side of the old bridge. Once the new segments are complete, crews will tear out the old bridge and slide each half of the new structure where the existing bridge now stands.
ADOT has slid new bridges into the place of old ones before, including a 2020 project to replace the Fourth Street bridge over Interstate 40 in Flagstaff.
By sliding a bridge into place, ADOT can keep traffic moving with minimal delays during construction. Both lanes of traffic will remain open during the SR 79 project, except for two weekends when the bridge halves are slid into place. On both weekends, a temporary traffic signal will restrict traffic to one lane in each direction.
The existing bridge was built in 1957-58 and has reached the end of its useful life. When ADOT began planning for a replacement, engineers had several options for its construction. 
One common method involves building the new bridge next to the old one, which was the case when ADOT replaced the Pinto Creek bridge on US 60 between Globe and Miami. That option was ruled out for the Florence bridge project because of the additional cost to buy right-of-way and shift the road to the new structure. 
Another approach is replacing the bridge one half at a time, which is how ADOT replaced the SR 77 bridge in Winkelman. That option would have meant only one lane of traffic would remain open during the project, which would have led to excessive delays because SR 79 carries significantly more traffic than the highway through Winkelman.
No matter what method ADOT chooses to replace a bridge, our goal is to maintain a safe and reliable transportation system while minimizing delays for motorists. In the case of the project in Florence, drivers should look for a reduced speed limit in the work zone and watch for traffic alerts when the bridge slides require two weekends of lane restrictions. 
Learn more about the project and stay up to date by checking out the SR 79 bridge replacement project page.